This is where the Best Wings in Huntsville Alabama can be found. Most of you who have toured the city, as I have, in search of the best wings would agree that EZ has some of the best wings around.
What does it take to be considered "The Best?" Why don't we agree on a definitive #1? 
Oxford Languages defines the word "Taste" as the sensation of flavor perceived in the mouth and throat on contact with a substance.
"Perceived" that's the key! Perception is subjective. I believe that 80% of what our brain perceives as the "Best Wings" happens before you even take the first bite. Ambiance, previous experiences, level of hunger, people around you, plating, aroma, all of these and many more are things that our brains take into consideration when creating a "Best Wings" file. That's why we don't agree and everyone has their own opinion of the  "Best Wings" in town. Okay, Enough of the boring stuff. Let's get down to the wings!
West End Grill is my, RickyHSV,  Favorite Spot in Huntsville Alabama to get wings. "12, Grilled, Hot, Ranch" is my go to wing order. The quality of the wings is consistent. The char from the grill adds a distinct flavor profile to the wings that I enjoy and associate with WEG. This is my personal favorite wing spot in town.
Yes They have wings. Yes they are delicious! And they're only Fo-Fo-Fo!
 Big juicy wings available in multiple exclusive flavors. My favorite way to enjoy Phat Sammys is to let the Chef and Staff guide my experience. And every week they come up with a different wing flavor for Happy Hour where you can enjoy 4 wings for $4 during happy hour and all day Mondays. This week's flavor was a sweet ginger bbq! Huge jumbo wings double cooked and tossed in their weekly fusion sauces.
Karaoke, Pool, Darts, Beer, and Wings!! I was visiting Maggie Meyers checking out their Thursday night karaoke with Stephen Rice and randomly ordered some wings just in case. They came out and immediately I knew they had a chance to make the list due to them being jumbo wings. Which by the way you have to know what you're doing to cook them through without overcooking them. It's easy to slightly undercook wings this size and ruin the whole experience. But they nailed it! Classic hot Buffalo sauce, perfectly cooked, crispy even after the quick picture session. Definitely worth checking out.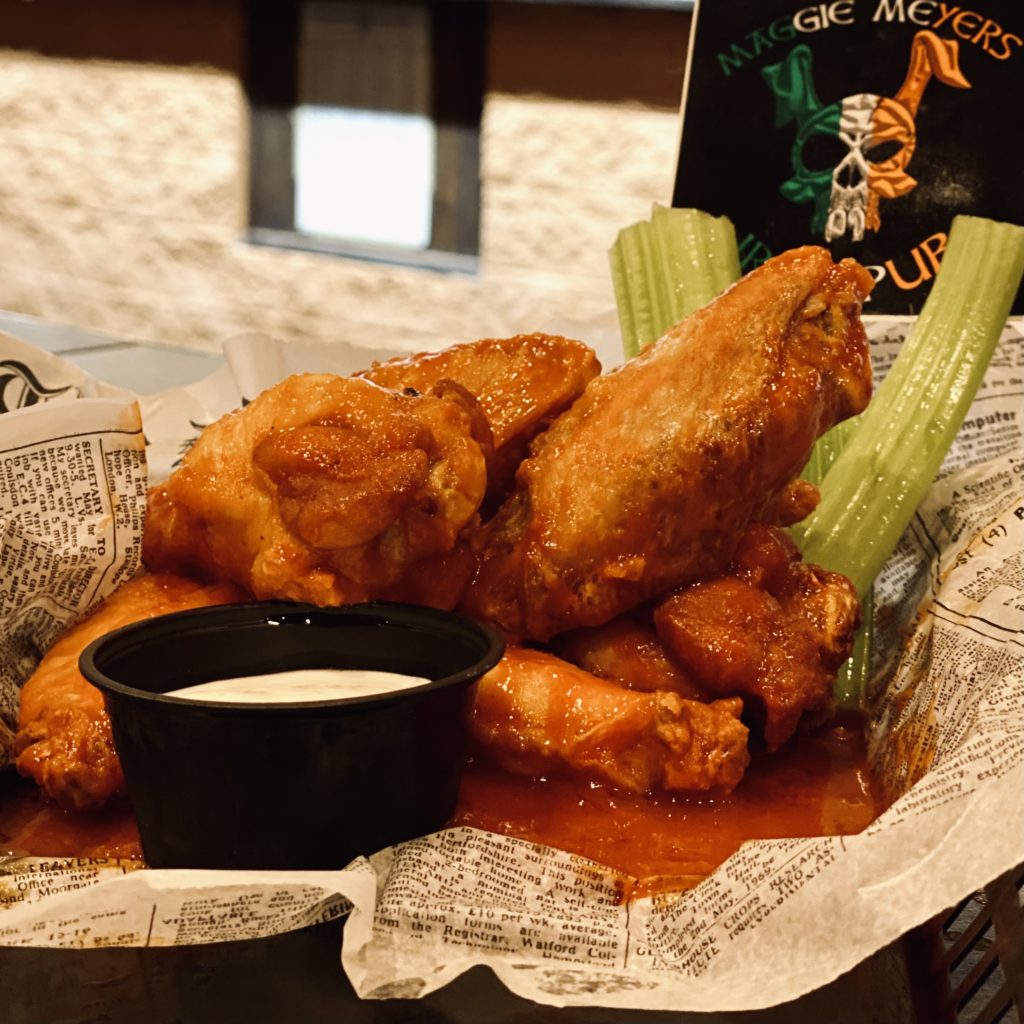 .75¢ wing Wednesdays in the heart of downtown you have a couple hidden-in-plain-sight foodie options. Especially when it comes to wings! And JSP is one of the best downtown spots to get wings especially at 75¢ a wing on Wednesdays. Their Famous "P's Tummy Rub" is my pick for wing flavors.
Harvest AL, is where you'll find these wings. I tried keeping this list all within the city limits but after tasting their smoke honey sriracha wings at this spot. It HAD to make the list. I am a wuss when it comes to heat. But these were flavorful heat with a lingering sweetness that ends up holding on to some of the heat as your palate enjoys all the flavors it sneaks up on you a second time and your off to the races again.  Big Johns is a Must! From pastor to daycare owner to taking his family's recipes and sharing them with the world. From Mississippi to Georgia their BBQ is quickly becoming one of the best in the south. And their wings are a great way to try them out.
Literally the Best Wings in Huntsville AL. Wing ba wing pound for pound champion of the Wings in the rocket city. Try Uncle Jessie's sauce. It's a Thing. Legend tells of an  Uncle Jessie that would request the cooks make him a sauce using certain ingredients, And they Did so so often it ended up on the menu and the rest is history.
After working for 15 years in the Food Industry in Huntsville, Alabama, I decided to become a professional Foodie. I shined the spotlight on all of the local restaurants and businesses that I visited throughout my days on my social platforms.